BforeAI named a finalist in the 2023 Pay360 Awards
BforeAI has been chosen as a finalist in the 2023 Pay360Awards for "Best Financial Crime Solution".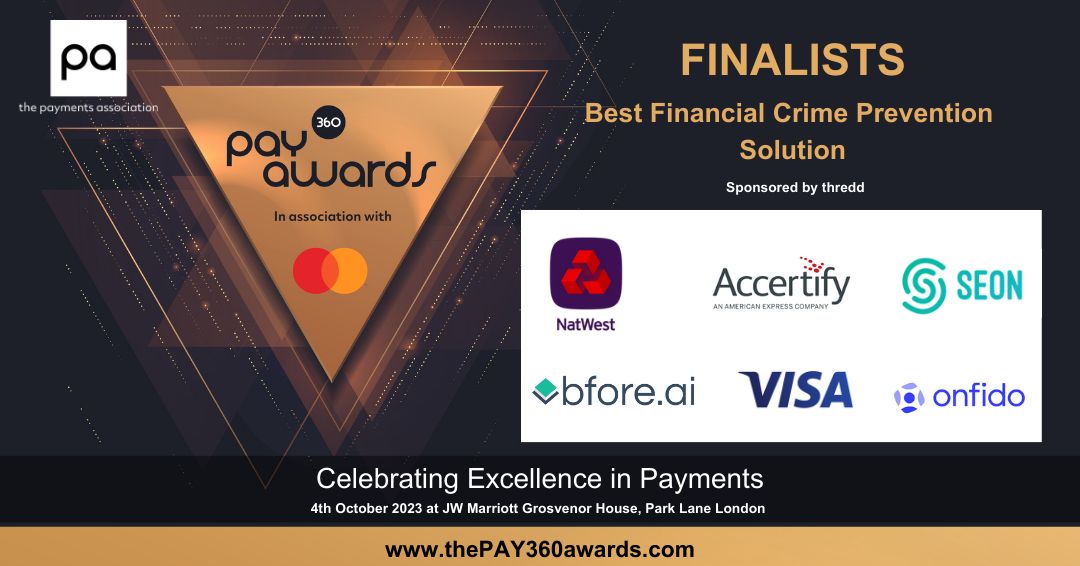 We are thrilled to announce BforeAI has been shortlisted as a finalist in the 2023 Pay360Awards for "Best Financial Crime Prevention Solution".
This recognition is a testament to our unwavering dedication to protecting financial organizations using predictive technology. Being placed alongside other exceptional organizations is an honor, a validation of our hard work, and a catalyst for future innovation. We invite you to join us on October 4th as we find out who secures the coveted top spot!
The prestigious PAY360 Awards, previously known as the Emerging Payments Awards, is an annual extravaganza celebrating innovation, collaboration, and groundbreaking advances in the payments industry. Organized by The Payments Association in association with Mastercard, the awards are now in their 16th year and is the most esteemed event for the UK payments industry.
Scheduled for October 4th, the event is expected to be attended by more than 950 senior executives across the payments value chain. The PAY360 Awards, with a legacy of celebrating progress and acknowledging brilliance, offer an unparalleled opportunity to showcase our business and contributions to the industry.
The evening promises a celebration of achievements, entertainment par excellence, and abundant networking opportunities. With over half the attendees being C-level executives and above, the event offers an exclusive platform for interaction with industry titans and decision-makers.
Over 300 nominations are meticulously evaluated by an independent panel of 70 judges to pick 23 winners, ensuring a fair and unbiased selection process.
At BforeAI, we champion proactive prevention over reactive response – and believe that's why we were chosen as a company to watch and award. We are deeply honored by The PAY360 Awards recognition of our unwavering commitment to a safer digital world and are eager to find out who wins the top prize.
To learn more about our cutting edge solutions, please visit our website where you'll learn how: