BforeAI joins American Bankers Association (ABA) as associate member
BforeAI joins the American Bankers Association (ABA) as an associate member in order to build recognition, access, and exposure to the banking industry — and educate a larger market on financial crime prevention.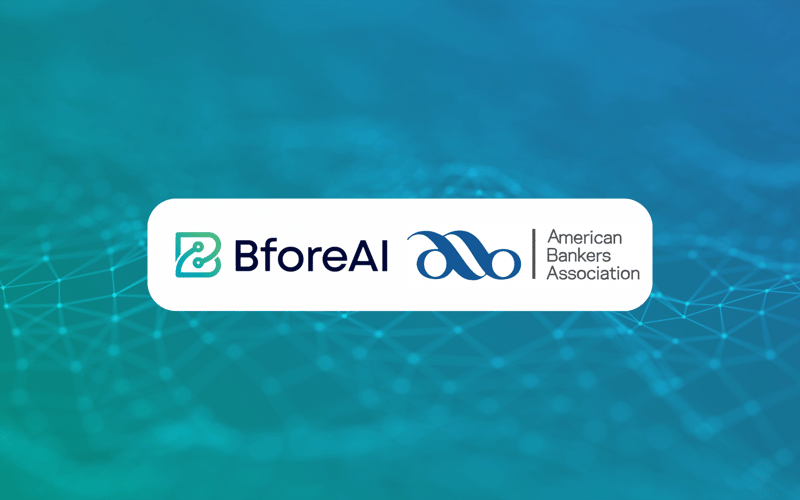 BforeAI is proud to announce it has joined the American Bankers Association (ABA) as an associate member in an effort to build recognition, access, and exposure to the banking industry. With a larger audience, BforeAI looks forward to continuing its mission in financial crime prevention — and educating the market on related topics such as critical cybersecurity risks facing the financial sector and innovative methods for proactive protection and loss prevention.
"We are excited and honored to join the ABA. Our membership solidifies our position as a resource in the banking industry," said Luciano Allegro, BforeAI co-founder and CMO. "With our proven track record of successfully assisting financial institutions in combating daily cyber attacks, we bring valuable expertise to the table and look forward to collaborating with the association to strengthen industry resilience and protection of critical assets."
This new membership will not only enhance BforeAI's visibility within the financial sector, but will also provide opportunities to engage with ABA members in discussion groups, podcasts, webinars, and conferences. This will aid BforeAI in becoming a go-to resource for bankers looking for information on FinTech risks, regulatory compliance, and educational programs geared towards financial crime prevention. And of course, members will also be able to test our PreCrime™ solutions.
"The financial sector is a frequent target of cyberattacks due to the sensitive and valuable nature of the data it holds – and creating deep tech with a business-driven approach aimed specifically at this market has been challenging to say the least, " said Sebastian Cesario, BforeAI co-founder and CTO. "Joining the ABA and getting feedback from the banking industry is an extraordinary way of validating our cutting-edge technology and making sure it adds real value to the financial market," he continued.
---
To book a live demo of BforeAI, please contact us.
And if you want a free domain takedown, please click here.

---
About BforeAI
BforeAI is a pioneer in predictive threat intelligence and Digital Risk Protection Services (DRPS). Powered by PreCrime™ technology using behavioral AI, our mission is to shift cyber defense from a reactive to proactive approach – with solutions for threat intelligence, brand protection, adversary disruption, and infrastructure takedowns. Named by Gartner in five reports, and chosen for numerous awards and programs such as the FinTech Innovation Lab New York, BforeAI is the industry's fastest, most accurate solution for automated protection against online fraud. To learn more, visit bfore.ai.