BforeAI Partners With Hybrid Analysis to Enhance Domain Security With Predictive AI
As part of the partnership, Hybrid Analysis will integrate BforeAI technology into their services for additional context into scanned URLs and domains.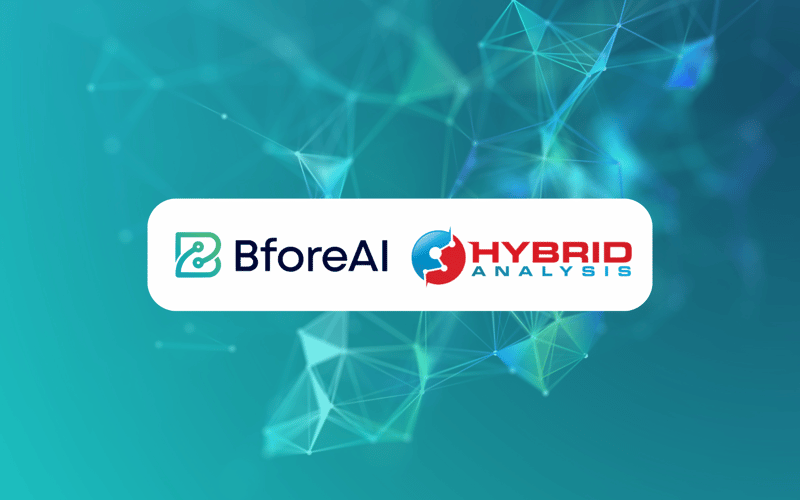 This article was originally published on EIN Presswire on August 30, 2023.
MONTPELLIER, FRANCE , August 30, 2023/EINPresswire.com/ — BforeAI, a leading provider of predictive threat intelligence and digital risk protection services (DRPS), announced today that it has partnered with Hybrid Analysis to enhance domain security with predictive AI. As part of the partnership, Hybrid Analysis will integrate BforeAI's PreCrime™ technology into its services for additional context into scanned URLs and domains.
"I'm excited about our partnership with Hybrid Analysis", said Luciano Allegro, BforeAI co-founder and CMO. "By using AI to analyze URLs and domains, we're giving the Hybrid Analysis community a powerful tool to stay safe online. Our AI predicts threats and helps uncover malicious behavior — adding an extra layer of protection to the DNS. This partnership reflects our mission: using advanced technology to keep the digital world safer and more secure."
With millions of new malicious domains found per month, including malware and phishing scams, it is a challenge to provide proactive domain security — and really get ahead of emerging network threats. This integration will offer the Hybrid Analysis community cutting edge, predictive AI that will provide additional context into scanned URLs, identify suspicious infrastructure, and accurately predict malicious intent.
"The collaboration and partnership with AI-powered technology provider BforeAI will augment our platform by improving threat research insights for the Hybrid Analysis security community," said Hybrid Analysis' Dr. Sven Krasser . "This integration empowers rapid detection of malicious domains using AI, liberating analysts from time-consuming tasks like certificate verification and DNS record tracking."
The Hybrid Analysis community will be able to use contextual URL analysis to identify malicious domains without having to spend time verifying domain certificates, checking WHOIS records, and tracking down DNS records. They can then use this information to augment their threat research and analysis or take action against fraud, phishing scams, and other malicious activities.
To learn more about the BforeAI and Hybrid Analysis partnership, visit this page.
For a live demo of BforeAI, please book online.
To get a free domain takedown, please click here.
About BforeAI
BforeAI is a pioneer in predictive threat intelligence and Digital Risk Protection Services (DRPS). Powered by PreCrime™ technology using behavioral AI, our mission is to shift cyber defense from a reactive to proactive approach – with solutions for threat intelligence, brand protection, adversary disruption, and infrastructure takedowns. Named by Gartner in five reports, and chosen for numerous awards and programs such as the FinTech Innovation Lab New York, BforeAI is the industry's fastest, most accurate solution for automated protection against online fraud. To learn more, visit bfore.ai.
About Hybrid Analysis
Hybrid Analysis is a free and public malware analysis service that focuses on creating an open platform for sharing and analyzing malware samples -- serving as a powerful collaborative platform that empowers the malware research community to fight against threats. Our mission is to enable an open-source and community-driven approach that promotes the rapid dissemination of threat intelligence, enabling the malware research community to quickly respond to new and emerging threats, understand how they behave and potentially enable the community to build more effective threat mitigation strategies.
###
Media Contact
Sonia Awan
Outbloom Public Relations
+1 747-254-5705
soniaawanpr@gmail.com